What is the La Niña and what does it mean for the Australian weather?
Invisible to us mere mortals on the ground, the atmosphere is full of gigantic circulations that transport, mix and distribute air and energy around the world.
One of these giant whirlpools is called the Walker Circulation.
The Walker Circulation strides across the Pacific, rising in the west in the warm waters off Australia, pushing up and across the Pacific and descending near South America before racing back across the Pacific to form the trade winds.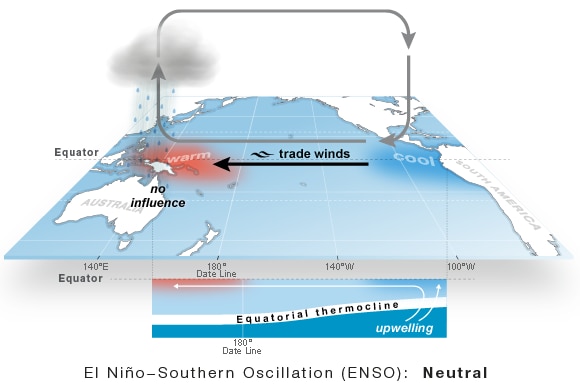 La Niña is the term used to describe when the Walker Circulation is on steroids.
The western Pacific is even warmer than usual, the trade winds are stronger, and all this moist energetic air is being pushed toward Australia.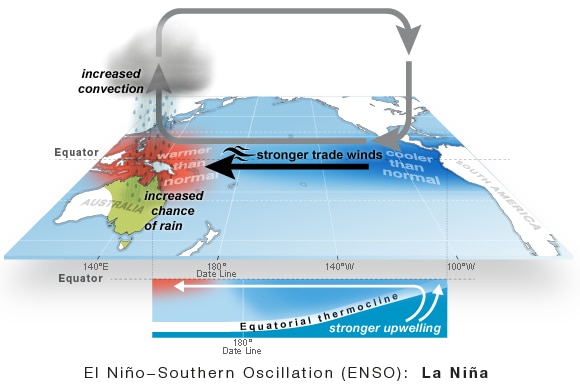 La Niña is therefore usually associated with wetter than average conditions for northern and eastern Australia, especially in winter, spring and early summer.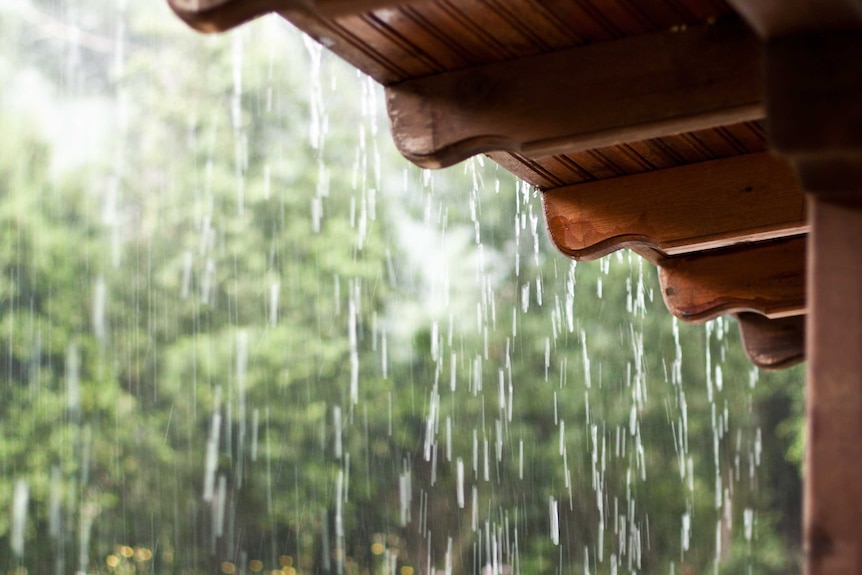 When the Walker circulation is weakened or even reversed, it is called the El Niño.
With air rising near South America and falling over the cooler-than-average oceans near Australia, less moisture is available and lift is discouraged, often resulting in drier-than-average conditions for northern and eastern Australia. .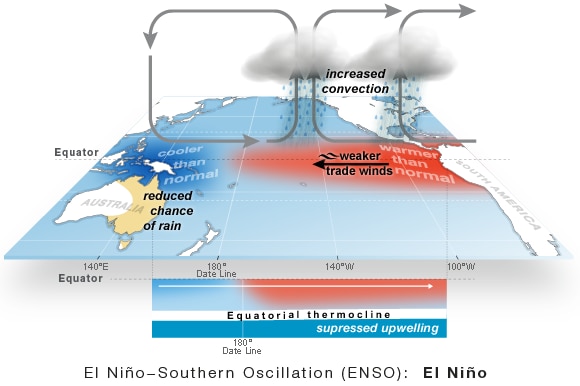 What's in a name?
Together, La Niña and El Niño are often referred to as the El Niño Southern Oscillation, or ENSO.
The name El Niño was invented by South American fishermen in the 1600s who noticed unusually warm waters that often peaked around Christmas time.
They named the phenomenon after 'El Niño de Navidad', after the Christ Child.
This evolved into just El Niño, "the boy" and La Niña, "the girl" to describe the opposite phase.
For all the true weather buffs out there, there is another ENSO stage called El Niño Modoki. Where Modoki means 'same but different' in Japanese.
Or more boringly referred to as a Central Pacific El Niño.
This stage is when the air rises in the center of the Pacific Ocean and descends on both sides, discouraging rain.
What does La Nina mean for Australia?
Right off the bat, no two La Niña events are exactly alike.
La Niña conditions do not cause any individual downpour, but pile up the underlying conditions with moisture for when an individual weather event occurs.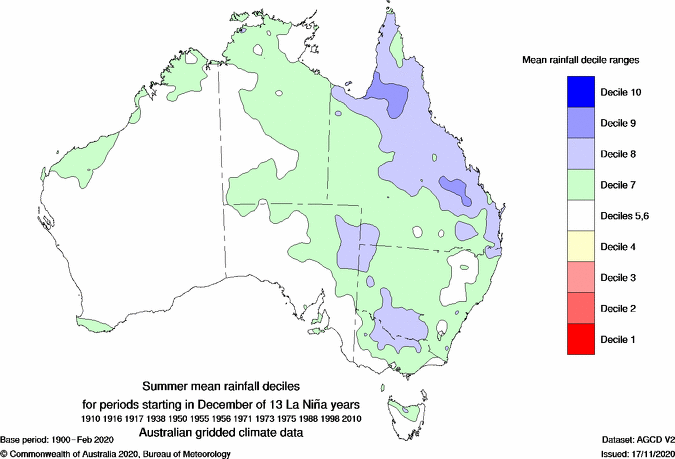 Therefore, La Niña summers tend to be wetter than average and the warmer oceans also favor tropical cyclones.
The increased rainfall also results in an increase in mosquito-borne diseases.
Major La Niña events of the past include the La Niña from 1973 to 1976, the longest sustained period of La Niña ever recorded.
1974 still stands as Australia's wettest year on record and 1973 and 1975 were also in the top five.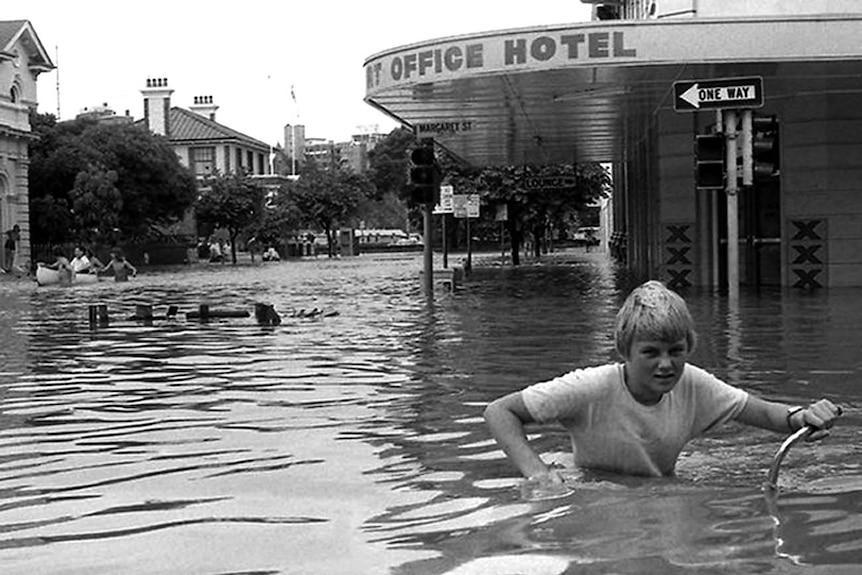 Perhaps the most memorable event from these years was Cyclone Wanda which flooded Brisbane in January 1974.
More recently, 2010 to 2012 is notable for having two great La Niña summers in a row.
2010 and 2011 together resulted in the wettest 24 months ever.
Floods were widespread from the spring of 2010 to the end of the summer of 2011 – along the east coast.
Terrible flash floods washed away Grantham in South East Queensland's Lockyer Valley and flooded Brisbane again.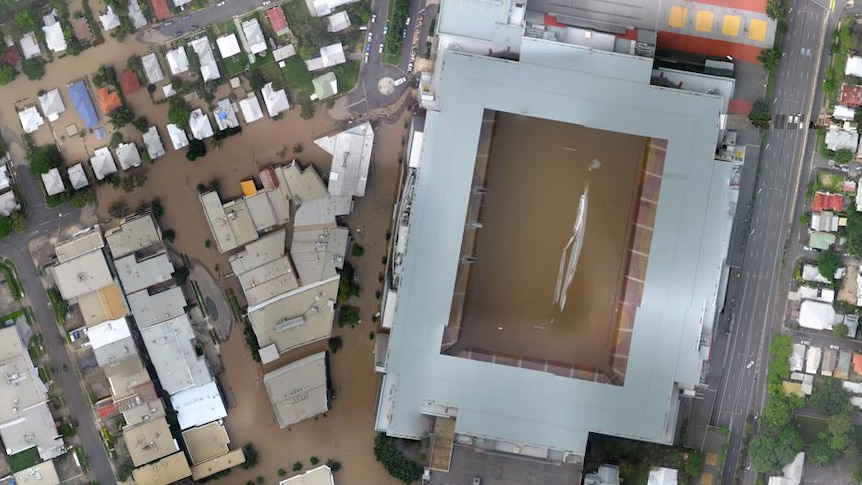 As these examples show, it's pretty normal to have two La Niña years in a row.
This year's La Niña links up with a previous year.
Fortunately, however, this combination is not expected to be as extreme as these great events of the past.
How does La Niña affect the world?
La Niña also typically brings wetter than average conditions to the countries north of Australia in our summer.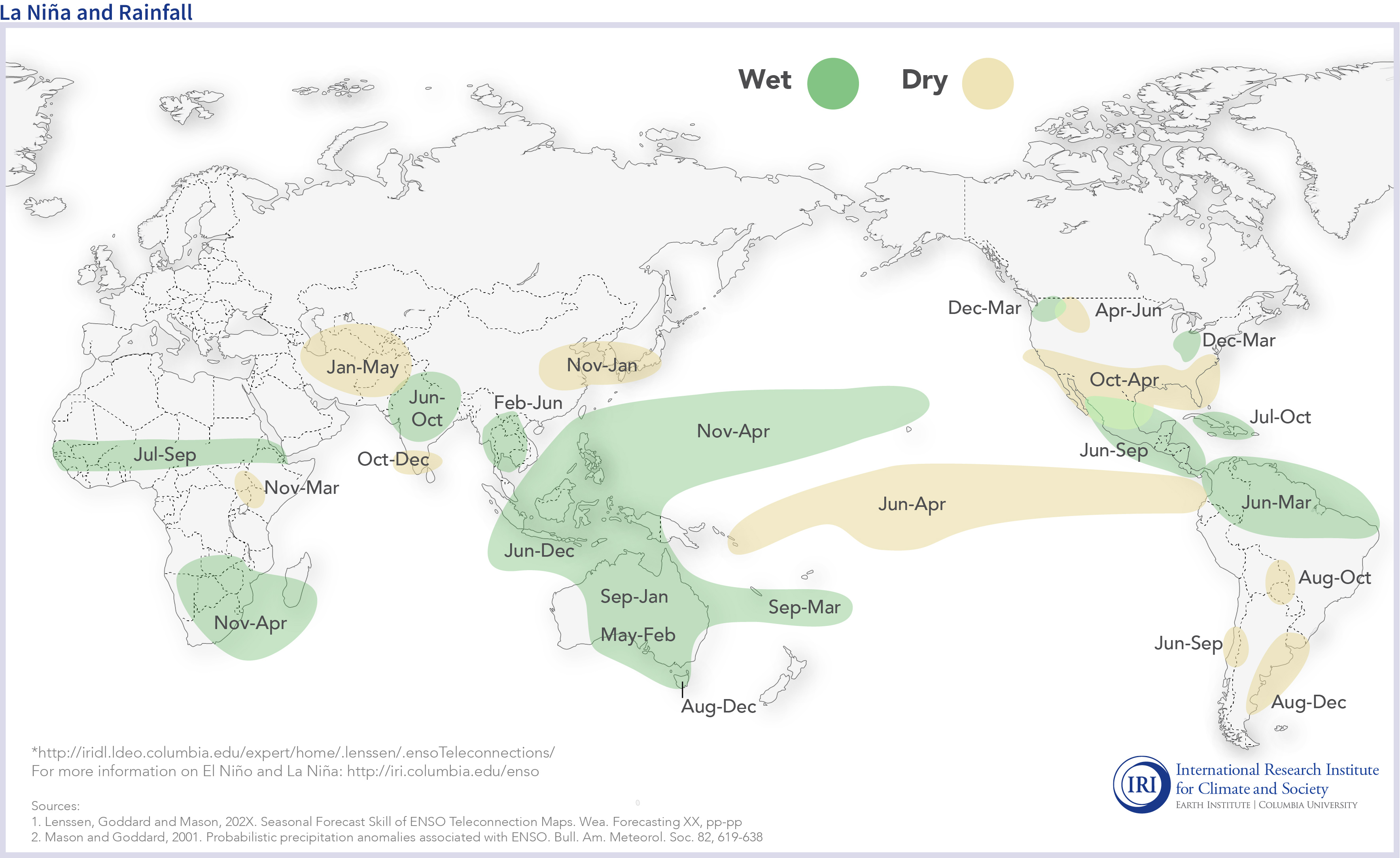 A La Niña will typically lead to drier than average conditions for the southern US during their winter.
An investigation published in Nature found that ENSO may have played a role in 21 percent of all civil conflicts between 1950 and 2004, and that new civil conflicts in the tropics were twice as likely to arise during El Niño years than La Niña.
La Niña and El Niño are not the only drivers
ENSO is just one of a set of climate systems affecting Australia.
The Indian Ocean dipole (IOD) is the other major annual factor influencing Australia.
It recently gained household fame after the continued positive phase was most blamed for the drought that culminated in the 2019/2020 fires.
But other drivers such as the Southern Annular Mode (SAM) and the Madden Julian Oscillation (MJO) also play a role.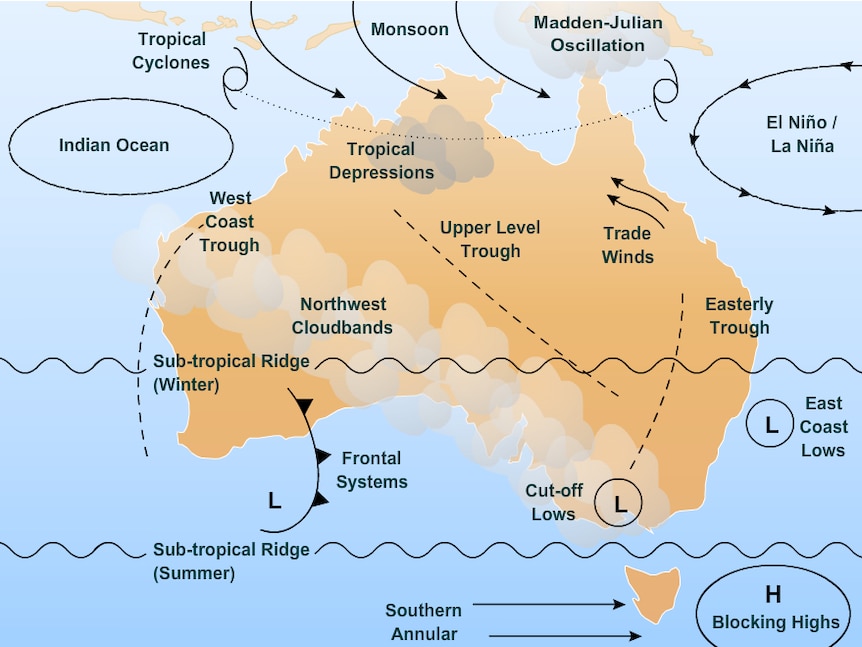 These drivers may work against each other or magnify the overall impact, as was the case this spring when the developing La Niña and waning negative IOD have combined to encourage rain.
These drivers take place against the background of climate change, with seasonal changes and individual systems coming to the fore.
It's a wonderfully complex world out there.
.
Builder who won £1million with lottery Links ticket on counter in shop
A builder who won £1 million ($1.3 million) from the lottery left his ticket on the counter in the shop. Watch the moment he found out he had won here:
Things looked unfavorable for Terry Kennedy, from Barnsley, UK, when he tried to get his hands on a EuroMillions Lucky Dip ticket last month, thinking it was a Friday – only to be told it was in fact a Saturday.
The 28-year-old then picked up a Lotto ticket instead and it matched two main numbers in the draw, entitling him to another free Lucky Dip.
And when he went to pick up this ticket, he was a little shocked.
"I had a bit of a nightmare in the store," Terry told LADbible.
"I think I bought some pop and candy and that too, I was eating, and I dropped my pop, dropped candy.
"I think I left my change when I stepped out of the store and the old woman said, 'Don't forget this!'
"I turned around and it was the lottery lottery ticket, and she even said, 'See if it's a winner now,' and joked about it — crazy."
The fortune-telling shop assistant was proved right on November 10, when the lottery ticket matched five main numbers and the Bonus Ball in the Lotto draw, making it worth a million pounds.
Terry didn't hear about his lucky charm until the next day at work, though he didn't believe it at first. Neither did his colleagues, including his father, who went back to work.
It wasn't until an operator confirmed the incredible news over the phone that reality kicked in, with images of the life-changing moment going viral.
Terry – who was a professional soccer player in his youth until his career was derailed by a recurring injury – called his girlfriend Kay Yoxall to share the news, but she too didn't believe him.
Kay said, "We've always said that if we won and we checked our ticket at work, we'd call each other and just say, 'Come home, we won.'
"But that's just always a dream and you never think it's really going to happen. When he called me and said we won — and you could hear everyone in the background — I was like, 'You're just squirming us up, the whole construction site is working on it, it's a joke.'
"I had to get my brother [who also works on the site] FaceTime me and put it on Tells so I could see his reaction. And it wasn't until I saw him that I knew it wasn't a joke."
As for Terry and the guys on site, they all dropped tools and headed straight for a few pints.
Terry said: "We all went to the pub, it's about two minutes away.
"I had literally just been paid, so I had to get laps for everyone. I got everyone a few laps and basically all my pay was gone."
Terry has been out of work since then but he has been to Tenerife and Dublin – with New York booked for January.
Kay has also been allowed to take a sabbatical and if Covid allows it, they plan to travel the world next year.
Hopefully Terry will buy that store clerk some candies and candies before he starts his life-changing adventure!
.
Amazon gives the Kindle's interface a refresh
Amazon has announced that the most recent Kindles are getting a new, simpler user interface through a software update (through Ars Technica). The update focuses primarily on navigation, adding a bar at the bottom of the screen that lets you jump between the home screen, the book you're currently reading, and the library screen. Some got the update for a few weeks, but Amazon has announced that the update will be rolled out widely in the coming weeks.
The way you access the Kindle's quick settings (which let you turn on airplane mode, adjust brightness, and more) has also changed. You can now access the menu by swiping down from the top of the screen, rather than tapping a button.
Amazon says more changes will be coming later this year, with an update that will allow you to see more recently read books on the home screen and will refresh the library's collection view and filter and sort menus.
Amazon's webpage ahead of the redesign says the feature will roll out to supported devices in the coming weeks (8th generation Kindle, 7th generation Paperwhite and Oasis or later). Basically, it includes most of the Kindles released since 2015, so there's a good chance yours will be supported.
Unfortunately Amazon didn't make the Kindles Generation Information easily available until the update currently being rolled out. It seems the best way to find out if your device is eligible, you must use Google's model number, which should be on the back of the device.
Like the readers' E Ink screens, the Kindle interface is not refreshed often. Amazon only added the ability to show the lock screen the cover of the book you're reading earlier this year. Ars Technica also reports that the Kindle web browser's "experimental" label — which has been around for at least 10 years — according to GoodEReader – is gone. Unfortunately, Ars reports that cannot see any changes from the previous (and not so good) version.
The update should automatically install on your Kindle at some point if it's connected to Wi-Fi, but you can also update your device manually using a computer if you want to get the new user interface as soon as possible.
Weather 12/8/21 – NCWLIFE
A cold front sweeps across the Inland Northwest today, bringing heavy mountain snowfall and high winds to much of central and eastern Washington. There is a winter storm warning today through Thursday evening for the mountain passes, including Snoqualmie and Stevens, where up to 12 inches of snow could fall.
The weather in north-central Washington today will be partly cloudy, windy and warmer with afternoon temperatures around 40 degrees.
A top-level weather system will roll over on Thursday with a wave of moisture at the rear, giving a 30% chance of rain/snow with afternoon temperatures around 40 degrees.
A large area of ​​low pressure will move south from the Gulf of Alaska and along the west coast all day Friday. Weather conditions will be calm during the day with mostly cloudy skies and peaks in the lower 40's.
Saturday through the first part of next week we will enter a more volatile weather pattern with near-continuous moderate heavy snowfall in the mountains and rain mixed with snow in the lower parts.
Saturday will be cloudy with a 90% chance of rain/snow, also warmer, with afternoon temperatures around 40 degrees.
Mostly cloudy for Sunday with a 30% chance of rain/snow, maximums in the low 40's.
The weather pattern also remains uncertain on Monday and Tuesday with a 70% chance of precipitation on Monday and a 50% chance of rain/snow on Tuesday with maximums around 40 degrees on both days.