Polaroid has launched what it is calling the tiniest member to join the Polaroid family of cameras and also the smallest analog instant camera in the world: the Polaroid Go. Everything about it is smaller, including a miniaturized version of its classic, square format film.
The Polaroid Go is 4.1 inches long, 3.3 inches wide, and 2.4 inches tall, and weighs 0.53 pounds (242 grams) without a film pack. The company says it was designed as a "wearable creative companion" camera that can easily be taken on the go to allow for "playful" image capture without any of the hassle that tends to come with larger cameras.
The tiny camera has a newly developed selfie mirror, self-timer, what Polaroid says is a long-lasting battery (up to 15 packs of film per charge), a "dynamic flash," double exposure capability, and travel-friendly accessories. Polaroid says that the inclusion of all these features makes it easier for anyone to capture memories "wherever creativity takes them." The camera's shutter speed is variable between 1/125 and 30 seconds and the aperture behind the polycarbonate resin lens is variable between f/12 and f/52.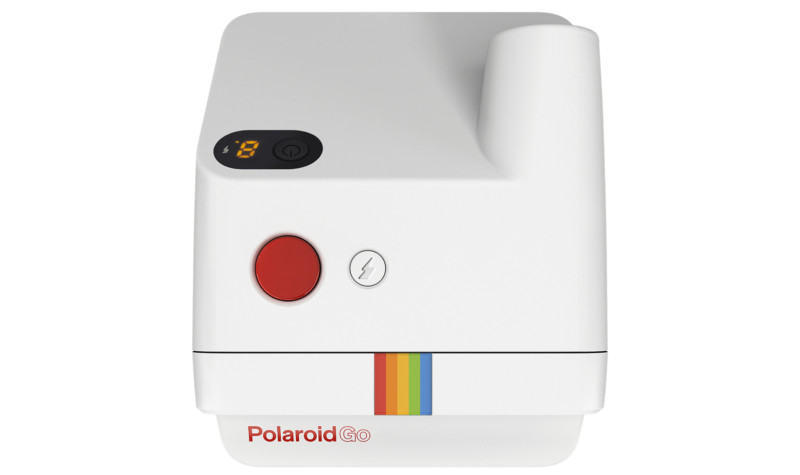 The size of the Polaroid Go appears to be a direct response to the ease that smartphone cameras have instilled in the average consumer. It's easy to convince people to use a smartphone as a camera when it's intrinsically connected to a device that most people can no longer live without. Polaroid seems to be saying that they hope the small size of this camera can help make it easier to bring the instant camera on the go.
"Bringing innovation, product design, creativity, and a little bit of attitude back to Polaroid has been our focus ever since we took over as the new team three years ago. The Polaroid Go is our biggest contribution to this yet. It is just really playful yet incredibly well-designed, and it's going to make it so easy for you to bring a totally different camera than your phone with you wherever you go," Oskar Smolokowski, Polaroid's CEO, says.
Accompanying the launch of the Polaroid Go camera is the Go film, which is a reimagining of Polaroid's classic square format in the smallest analog film the brand has ever produced. The Polaroid Go is only compatible with Go film.
Below are a few sample images that were shot with the new camera:
The Polaroid Go ships with one Color Film Double Pack (16 photos per double pack, ASA 640) as well as a USB charging cable for the battery and a neck strap.
The Polaroid Go is available for pre-order until April 27 when it officially launches. The camera retails for $100 and additional Go film double packs will cost $20. You can order the camera and film on Polaroid's website here.