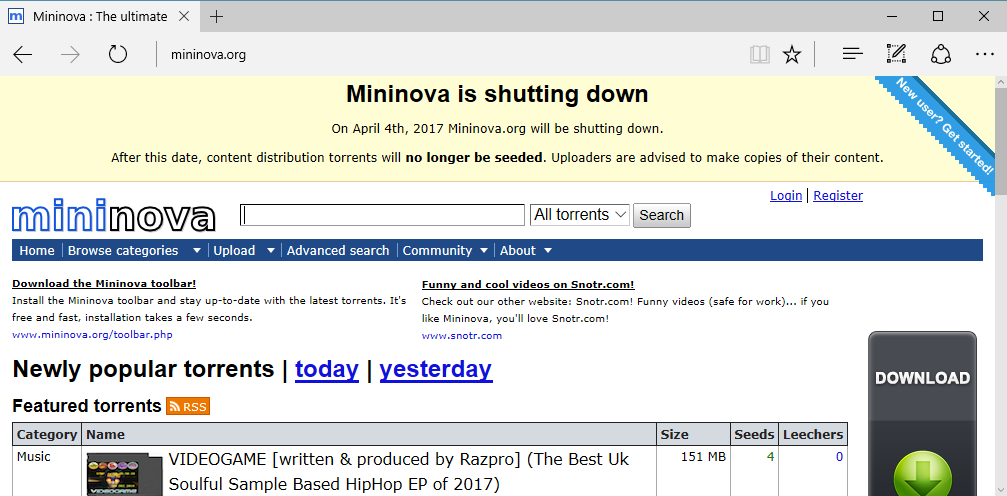 Mininova, a veteran of the torrenting scene, announced today it was shutting down, closing its doors after 13 years of existence.
"On April 4th, 2017 Mininova.org will be shutting down," the message on the Mininova homepage reads. "After this date, content distribution torrents will no longer be seeded. Uploaders are advised to make copies of their content."
The site was founded in 2004 in the Netherlands and was a clone of the Suprnova.org torrents portal that was forced to shut down due to legal issues.
Mininova was The Pirate Bay before The Pirate Bay existed
Mininova quickly rose to fame, mostly by capitalizing on Suprnova's userbase, and in a very short interval of time became the undisputed leader among all torrenting sites.
The portal's glory years lasted until December 2009, when it lost a trial with copyright owners and it was forced to remove all infringing torrents, leaving the site barren of any content.
Following Mininova's demise, The Pirate Bay rose to take its place, followed afterward by new players like by Kickass Torrents, and now by RARBG and ExtraTorrent.
Mininova went "legal" in 2009
Despite losing the lawsuit, the portal's operators didn't give up on their site, and Mininova became one of the first fully legal torrent portals that listed only approved and legally safe torrents.
Many filmmakers, documentarians, music artists, and software makers used the site to launch products to a large userbase, even if the site had slowly fallen in Alexa's traffic rankings from the Top 100 to the Top 50K.
Apparently, this "legal" business model was not enough to keep the site afloat.
Fourth major site to bite the dust
Mininova is the fourth major torrenting site to shut down in the span of a year. Back in July 2016, Polish authorities arrested the admin of Kickass Torrents, which shut 24 hours later.
A few days later, Solarmovie, a major website for illegally streaming TV shows shut down citing fears about the legal consequences of their operation.
In August 2016, Torrentz.eu, another major torrent portal, shut down without any explanation or prior warning.