One would expect news of the arrest of the owner of the world's leading Torrent site, a person who authorities have been hunting for a while, to be a tale of suspense and thrilling action through the dark underbelly of the internet. And yet, 30-year-old Artem Vaulin was caught based on a harmless iTunes purchase.
The Ukrainian founder of KickAss Torrents, the Torrent-sharing site that hosts pirated information, was nailed by US authorities in Poland on Wednesday.
How it happened?
Vaulin was operating his fan page on Facebook. All his crucial details, including internet protocol (IP) address and other information, were with the social networking site. On US' request, Facebook provided the details, and the logging address was hosted on an email server owned by Apple.
The email address Vaulin used to purchase iTunes was the same he was using to get alerts relating to administrative tasks on Kickass Torrents
Then it was Apple which revealed all required information that led to Vaulin's downfall. Notably, Apple had recently, rather stubbornly, refused to cooperate with US authorities trying unlock the iPhone of a terrorist, even going to court over the matter.
What are torrent sites?
Torrent sites are used by people to download films, TV series, video games and more without paying for them.
What is BitTorrent?
It is a transmission protocol, which enables peer-to-peer file sharing, and is used to distribute data over the internet a lost faster than the so-called legitimate ones.
Why is it illegal?
The use of BitTorrent in connection with copyrighted material is prohibited under copyright laws. The use of BitTorrent to gain access to illegal material may land the end user in trouble.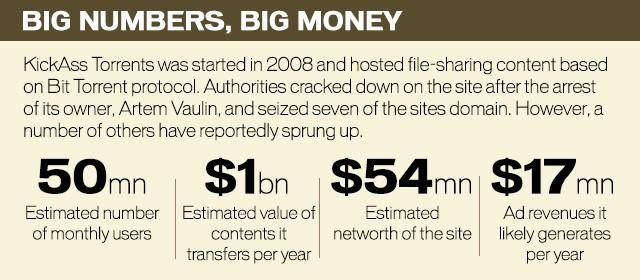 So, who uses it?
A number of companies use the BitTorrent protocol. The most popular example is perhaps Blizzard Entertainment, which uses its own Torrent client to download games, such as those relating to World of Warcraft and Starcraft.
In fact, rumour mills have it that if companies like Microsoft and Apple were to use BitTorrent, they would end up using a lot less bandwidth and enable faster downloads for its users.
Top torrent sites
1. KickassTorrents: Founded in 2008, it is fighting censorship issues worldwide; Banned in countries, including the UK, Ireland, Italy, Denmark, Belgium and Malaysia; Operates from a Costa Rican domain
2. The Pirate Bay: Founded in 2003, it went offline when US authorities blocked it two years ago. Back in action, despite various countries asking their internet service providers to block it
3. ExtraTorrent: Founded in 2002, also banned in most countries
4. Torrentz: Has been in existence since 2003, provides indexes to other torrents files
5. RARBG: Founded in 2008, uses the BitTorrent protocol, blocked in several countries
Source: TorrentFreak