How to re-enable YouTube's dislikes: 2 extensions you can use
On November 10, 2021, YouTube officially announced that the number of dislikes for all videos on their platform has been removed. The company stated that the new move was intended to help limit and control targeted harassment against the creators.
The number of dislikes was a useful indicator that helped measure the quality, as well as the reliability factor of a video. Example – Tutorials. Since the update, many YouTubers and viewers have spoken out about its shortcomings and believe that the feature should have been left untouched.
Fortunately, there are some browser extensions that show the like/dislike ratio and other stats, even if they are disabled by YouTube:
vidIQ
vidIQ is a third-party analytics website used by a large number of creators on YouTube. The site offers tips for growing your channel and provides detailed statistics based on public interactions on videos. To see the number of dislikes, users need to install a vidIQ extension which is currently only available in Chrome and Firefox browsers.
Step 1: Search "vidIQ extension" in your favorite browser and go to the official website. At the top you will see a list of options – click on "Extension".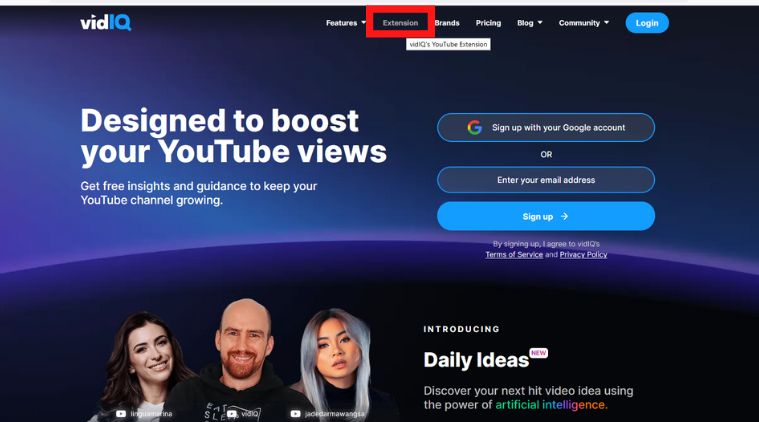 Go to the "Extension" tab at the top. (screenshot)
Step 2: On the new page, you will see a button prompting you to install the extension. Clicking it will take you to the Add-ons page, where you can install it.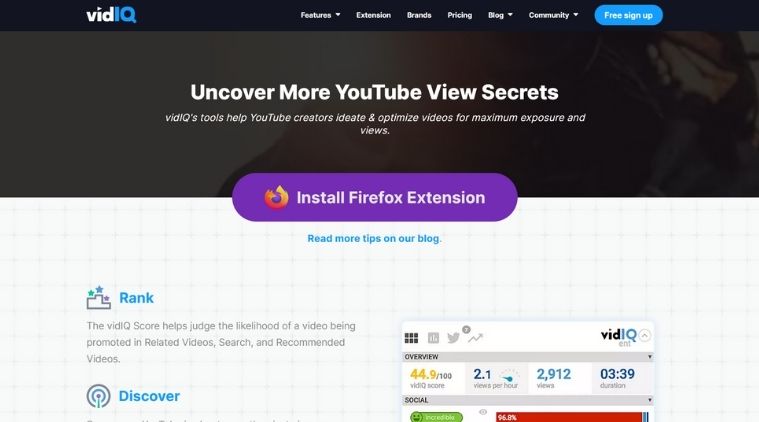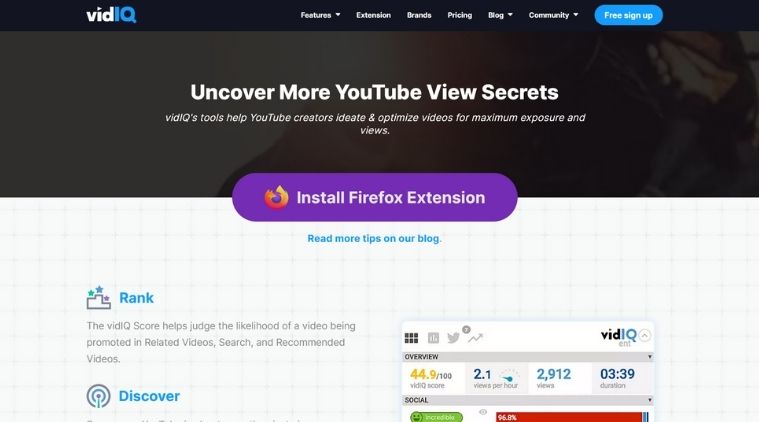 Install the extension. (screenshot)
Step 3: Once that's done, your browser will automatically open an unlisted YouTube video that gives you a brief overview of the app. On the right, you should see a panel asking for credentials. You can create a special account for vidIQ or sign up through Google as well.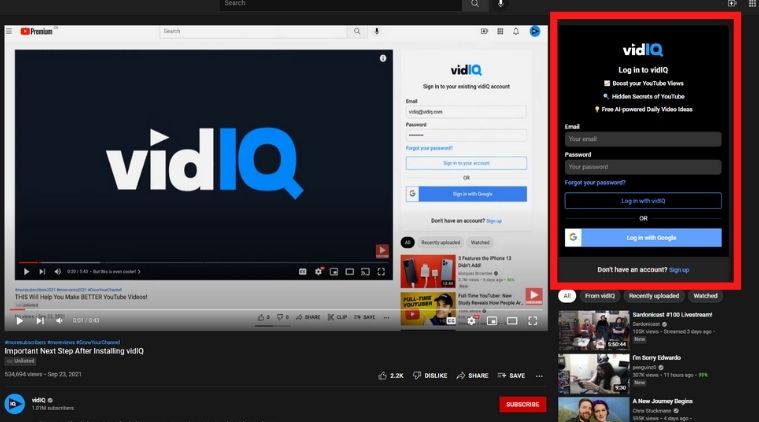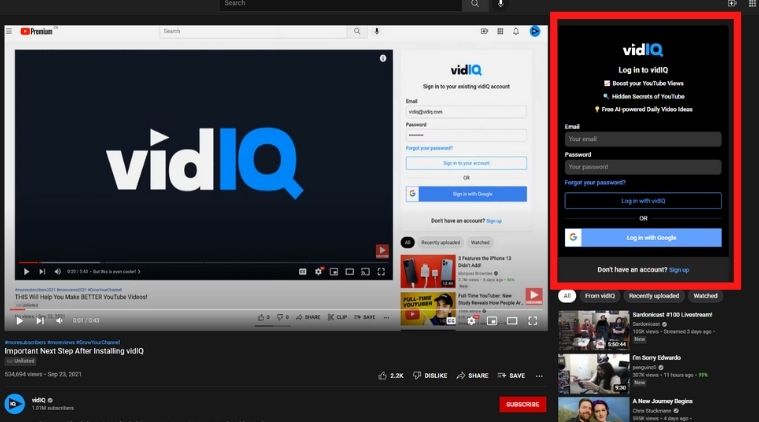 You can create a vidIQ account or log in via Google. (screenshot)
Step 4: The app may ask for permission to access and change information on your YouTube account, but that's completely normal. It is a trusted application used by many content creators so just go with it.
Step 5: After the installation phase, open a YouTube video and click Refresh so that the app fully configures itself. Now you should be able to get a ton of information in the same right panel ranging from the like/dislike ratio, engagement rate, SEO score, etc.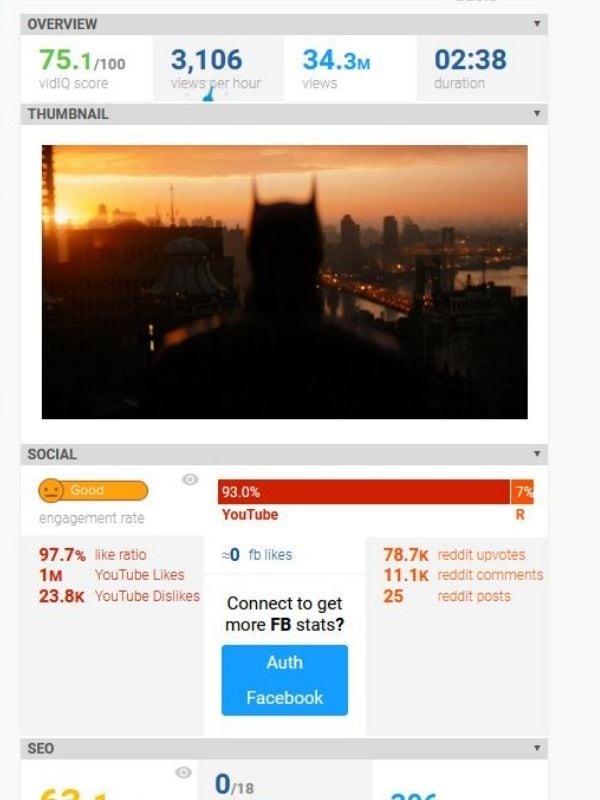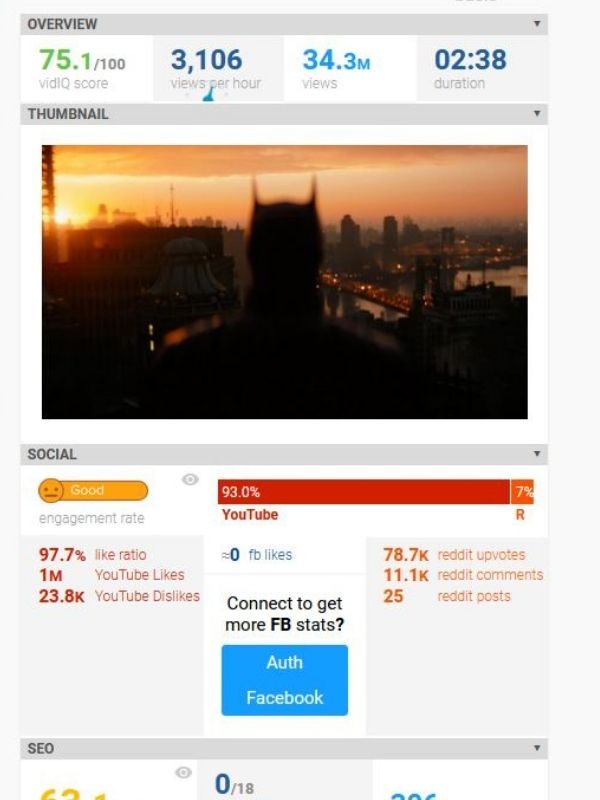 The right side panel shows the like/dislike ratio and other stats. (screenshot)
Please note that the app has not been fully adapted to the latest changes from YouTube, so the stats may drop out at some points. But it's nothing that a simple refresh won't fix.
Return YouTube Dislike Stats
This third-party browser extension, created by Dmitry Selivanov, releases "literally" the ability to view dislike statistics on YouTube. The plugin searches YouTube's official Data API to retrieve deleted statistics and estimates of user data to present a near-estimated value. The app is also open source and can be accessed from their GitHub page.
Step 1: In your preferred browser, search for "return youtube dislike GitHub" and click on the first link that was updated on November 10, 2021. You can also click here to go to the page as well.
Step 2: Right next to it, in the about section, you should see a link (returnyoutubedislike.com). Click here.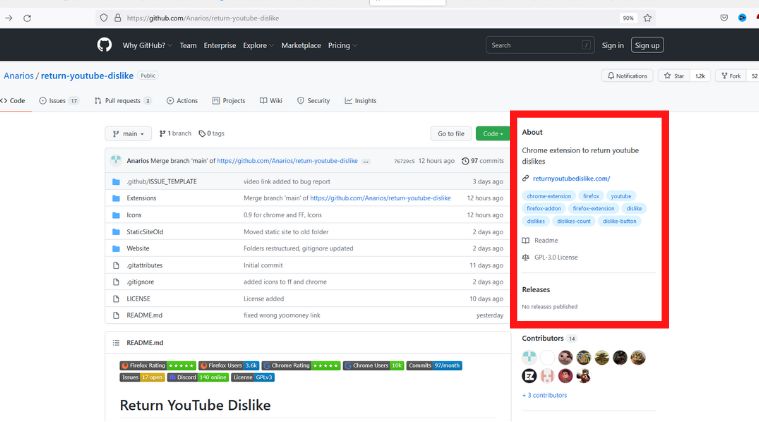 Click on the link to the official website in the "About" section. (screenshot)
Step 3: This should take you to their official website where you can click install and choose between Chrome or Firefox. Once on the official extensions page, you can add it to your browser.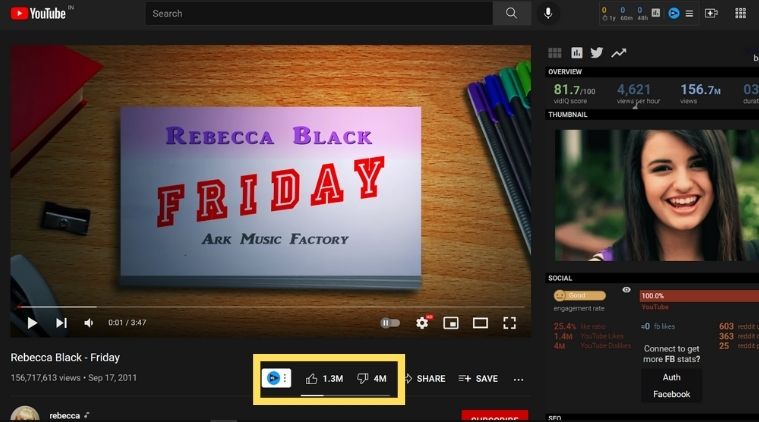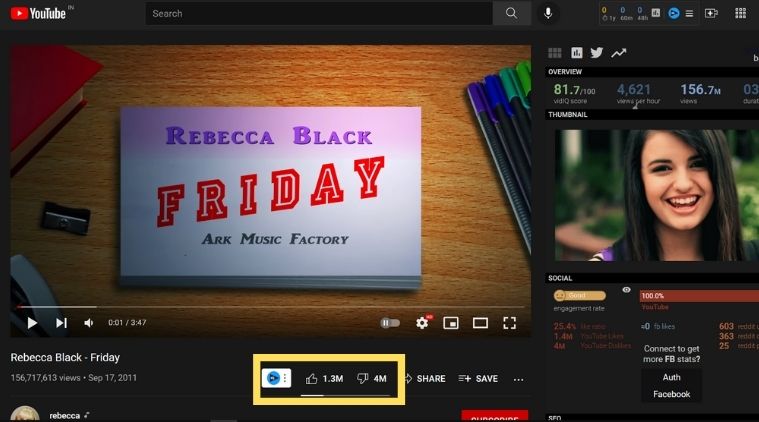 Visible dislike count. (screenshot)
Step 4: All you need to do now is open a YouTube video and click Refresh once. The number of dislikes should be visible at the bottom, just like before the update.
.
The Los Angeles Times Dropped Its 101 Best Restaurants List
The Los Angeles Times has its annual list of 101 best restaurants around greater LA. The Herculean task was primarily performed by food critic Bill Addison, and encompasses restaurant styles, cuisine types, and coastal neighborhoods. The list is not arranged, just in alphabetical order, and there are separate excerpts for pop ups and places drinks (beer, wine, cocktails, coffee). Congratulations to all winners. Elsewhere the infatuation also released its list of the 15 best restaurants of 2021.
Drive-thru news to know
Big news for fast food fans: Jack in the Box has agreed to acquire Del Taco, the Lake Forest taco chain. by the LA Times, the deal is worth a full $575 million.
A good cause for LA
Chef Michael Voltaggio intervenes to de LA Mission's Race to Feed campaign, which aims to hand out at least 300,000 meals across South LA this season. Voltaggio is partnering with the nonprofit to create ready-to-eat meals, offer recipe cards, and stock items to food-insecure families in December.
Wine and Appetizers in Downtown
Good Clean Fun pops up at Mezcalero tonight with food specials and wine from Bichi Winery in Mexico. The party includes a flight with three wines for $25 and oyster mushroom vampiros, with a start time of 7:00 PM
Another set of rules in Santa Monica
Unlike actual Los Angeles, the self-contained city of Santa Monica currently has no mandatory proof of vaccine policy, reports the Santa Monica Daily Press. That creates a hodgepodge of mandates that leaves some customers (and business owners) a little confused.
A party in Chinatown
Wes Avila's Angry Egret Dinette will celebrate its one-year anniversary at Mandarin Plaza in Chinatown on Saturday. For the party, Avila will team up with Biite Club to create an exclusive lobster and mushroom torta, and the team will also serve drinks and hand out merch. Tickets required.
UPDATE 3 Rohingya Refugees Sue Facebook for $150 Billion for Violence in Myanmar
Rohingya refugees from Myanmar are suing Meta Platforms Inc, formerly known as Facebook, for $150 billion over allegations that the social media company has failed to act against anti-Rohingya hate speech that has contributed to violence. A US class-action lawsuit filed Monday in California by law firms Edelson PC and Fields PLLC argues that the company's failure to control content and the platform's design contributed to the real-life violence facing the Rohingya. . .com/investigates/special-report/myanmar-facebook-hate community.
In a concerted action, British lawyers have also sent a letter of formal notice to Facebook's London office. A Meta spokesperson said in a statement: "We are shocked by the crimes committed against the Rohingya people in Myanmar. We have built a dedicated team of Burmese speakers, banned the Tatmadaw (Myanmar's military), disrupted networks that manipulate public debate and take action against harmful misinformation to protect people. We have also invested in Burmese language technology to reduce the prevalence of infringing content."
The company previously said it was "too slow to prevent misinformation and hatred" in Myanmar. A spokesman for the Myanmar junta did not return calls from Reuters to comment on the legal action against Facebook.
In 2018, UN human rights researchers said the use of Facebook had played a key role in spreading hate speech that fueled the violence. A Reuters investigation https://www.reuters.com/investigates/special-report/myanmar-facebook-hate that year, cited in the US complaint, found more than 1,000 examples of posts, comments, and images depicting the Rohingya and other attacking Muslims on Facebook. Almost all were in the main local language, Burmese.
The swear words included posts calling the Rohingya or other Muslims dogs, maggots and rapists, suggesting that they be fed to pigs, and urging them to be shot or exterminated. The posts were tolerated despite Facebook rules specifically prohibiting attacking ethnic groups with "violent or dehumanizing language" or comparing them to animals.
Facebook has said it is protected from liability for content posted by users by a US internet law known as Section 230, which states that online platforms are not liable for content posted by third parties. The complaint says it wants to apply Myanmar law to the claims if Section 230 is raised as a defense. While US courts can apply foreign law to cases where the alleged harm and activities by companies occurred in other countries, two legal experts interviewed by Reuters said they were not aware of a successful precedent for foreign law invoked in lawsuits against social media companies where Section 230 protections may apply.
Anupam Chander, a professor at Georgetown University Law Center, said relying on Myanmar law was not "inappropriate". But he predicted that "it is unlikely to be successful," saying that "it would be strange if Congress ruled out actions under US law but allowed them to proceed under foreign law." More than 730,000 Rohingya Muslims fled Rakhine state in Myanmar in August 2017 after a military crackdown that refugees say involved massacres and rapes. Rights groups documented murders of civilians and the burning of villages.
Myanmar authorities say they fought an insurgency and deny committing systematic atrocities. The International Criminal Court has opened a case over allegations of crimes in the region. In September, a US federal judge ordered Facebook to release data from accounts linked to anti-Rohingya violence in Myanmar that the social media giant had shut down.
The new class-action lawsuit references claims by Facebook whistleblower Frances Haugen, who leaked a cache https://www.reuters.com/technology/facebook-whistleblower-says-transparency-needed-fix-social-media-ills- 2021-12-03 from internal documents this year that the company does not monitor abusive content in countries where such expressions are likely to do the most damage. The complaint also cites recent media reports, including a Reuters report https://www.reuters.com/world/asia-pacific/information-combat-inside-fight-myanmars-soul-2021-11-01 last month, that Myanmar military used fake social media accounts to engage in what is commonly referred to in the military as "information battle."
Mohammed Taher, a refugee living in the camps in Bangladesh where more than a million Rohingya live, said Facebook was widely used to spread anti-Rohingya propaganda. "We are happy with the move," he said on the phone.
(This story has not been edited by Devdiscourse staff and is automatically generated from a syndicated feed.)
YouTube cancels year-end video 'Rewind' for 2020, says it's been a different year
Video streaming giant YouTube, owned by Google, has announced that it will not release a "Rewind" video for 2020, the company's celebratory year-end video featuring top video creators. YouTube made the announcement in a statement, saying 2020 was a "different" year and it wouldn't feel right to continue if it wasn't. "We know that so much of the good that happened in 2020 was created by all of you. You've found ways to cheer people up, help them cope, and make them laugh. You really made a difficult year better," YouTube said in a statement.
According to an IANS report, major creators have backed YouTube's call to cancel its year-end video 'Rewind'. However, the report said there were disagreements with some creators like JerryRigEverything saying that besides all the wrong things that have happened this year, there are several things to be positive about. "Since 2010, we have closed the year with Rewind: a look back at the most impactful creators, videos and trends of the year. Whether you love it — or you just remember 2018 — Rewind was always meant to celebrate you. Thank you for making a difference," the tweeted statement from YouTube read.
In 2018, YouTube turned its year-end rundown into a short film with cameos from Will Smith, Marshmello, and more. However, the video became the most hated video of all time, despite a star-studded cast. Last year, YouTube went back to a montage of clips from YouTube's most liked videos of the year.
Read all the Latest News, Breaking News and Coronavirus News here
.