Australia's best new restaurants
Aurora | 63 Light Square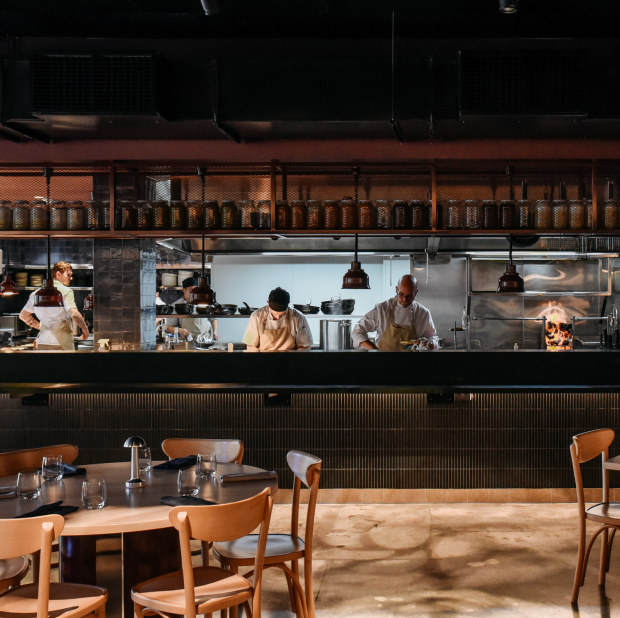 OK, so it opened in March and isn't so new to the locals, but sure to the rest of us. Part of an ambitious cultural, technology and hospitality hub, Aurora is also home to the outstanding contemporary food of one of South Australia's most accomplished chefs, Brendan Wessels (ex-The Cube, McLaren Vale).
Think wood-fired sustainable seafood, a brilliant lime financier and top local wines in a historic building that brings an entirely new cohort of guests to Adelaide's newly bustling West End.
And also …
♦ "Nice, accessible French" is the field at Garcon Blue, a 90-seat restaurant and raucous bar on the 9th floor of the new Sofitel Adelaide; and
♦ In McLaren Vale, get ready for "an Italian-inspired wine and dining experience" when Mitolo Wines launches Frankie, Italo Dining & Disco in March.
Sydney
Oncore by Clare Smyth | Crown Sydney, 1 Barangaroo Avenue, Barangaroo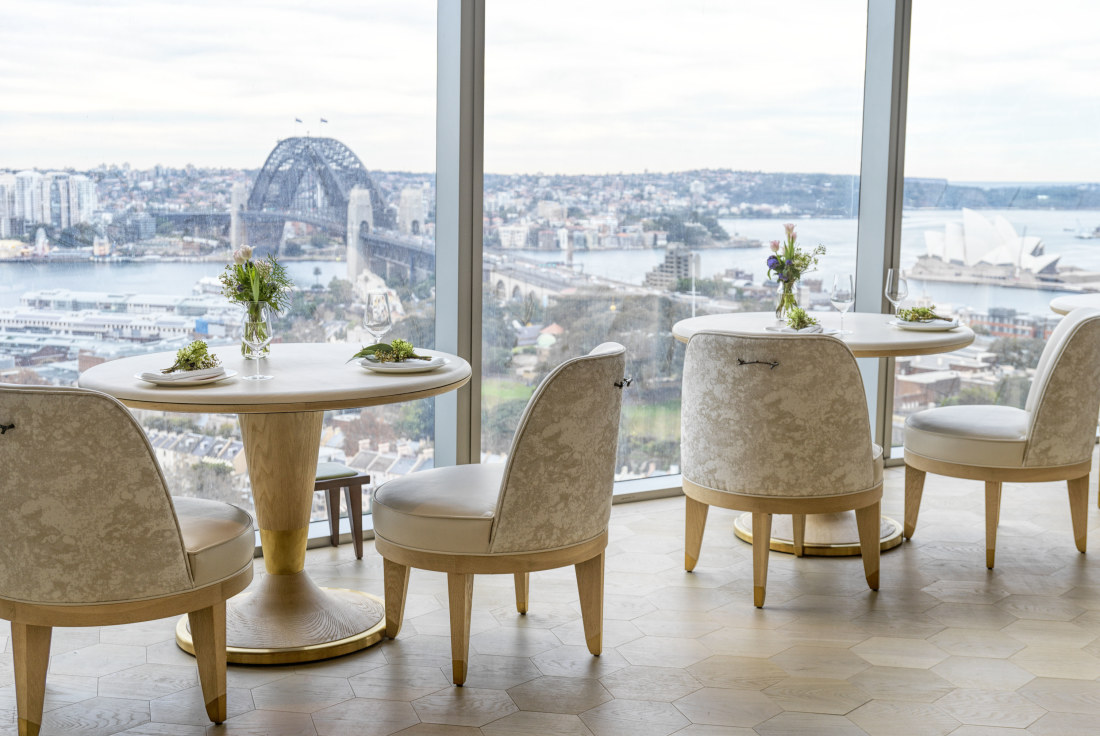 Clare Smyth is one of the world's best chefs; a Gordon Ramsay protégé who opened a solo venture, Core by Clare Smyth, making her the first female chef in Britain to win three Michelin stars.
Now, after a series of pandemic delays, Smyth has finally launched her new restaurant, Oncore, in the town she calls her second home.
Like the London mothership, Oncore is a contemporary fine diner; elegant yet relaxed and with its own discreet identity, informed by location. In Sydney, that means spectacular harbor views from Crown's level 26 and a menu that celebrates regenerative farming practices in classic Core dishes such as potato and roe, beef & oyster and vacherin of pear and lemon balm. In addition, there is an adult wine list, a chef's table and a cocktail bar with 40 seats at the window edge.
Ursulas | 92 Hargrave Street, Paddington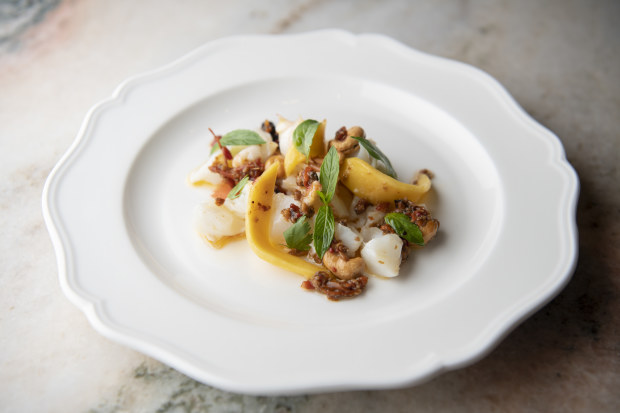 Like his former boss Neil Perry (Margaretha, Double Bay), Phil Wood opened an upscale neighborhood restaurant and named it after a matriarch. And in both cases, it's a concept that fits right in with our times: warm, welcoming, seemingly effortlessly refined in both food and design.
At Ursula's, the classically trained Wood entertains with a menu based on retro recipes, native ingredients and the old incarnation of the Paddington restaurant as Darcy's. So that's lobster salad with mango, cashew, and XO sauce for starters, followed by golden syrup dumplings. Well why not?
Duties of the chief: "Long lunches are back and are no longer the exclusive domain of CBD restaurants. After the share menu dominance in recent years, many diners are now reverting to ordering their own dishes from a la carte menus." – Phil Wood
shell house | 37 Margaret Street, Sydney
Mark this as a big vote of confidence in the future of Sydney's CBD. From The Point Group, and located behind Wynyard Station, the Woods Bagot-designed Shell House has four locations, three levels, and two highly desirable chefs in Joel Bickford (ex-Aria) and Aaron Ward (ex-Sixpenny).
There's the rooftop bar (Sky Bar) with a rarely seen view of the city skyline; the Clocktower bar, housed in a 400-ton Art Deco clock; the dining room & Terrace; and the Menzies Bar on the ground floor, named in honor of the venue's past life as The Menzies Hotel.
Menu standouts include Yellow Belly Bone, Roasted Whole with Smoked Wine Leaf, Capers & black garlic; and slow roasted cauliflower, roasted onion, comte, salted duck egg.
The bars are now open; the dining room opens on November 26.
And also …
♦ Il Pontile, an Italian seafood restaurant headed by Mario Percuoco, has joined the string of restaurants at Woolloomooloo Wharf;
♦ Bay Nine Omakase, a 10-seat Japanese food bar, opens early next month in the Campbells Cove neighborhood on The Rocks' waterfront; and
♦ Also aiming for early December is Loulou, a neighborhood bistro with attached bakery and deli, in Lavender Bay.
Melbourne
Society | 80 Collins Street, Melbourne
There were a few speed bumps on the long road to Society's launch, not least the shocking departure of original chef Martin Benn. But here's the thing: Judging by the large crowds that fill this second-floor fine-dinner in the evenings overlooking the Parisian end of Collins Street, you could only conclude that it was all grist for the publicity mill.
exhausts Melbourne is here. They're here for the super glamor bar, for the wow of the wine list, for the warm service from some of the best in town, and for the upscale, luxury, luxury menu from new chef Luke Headon. Did I mention luxury? Patagonian toothfish, southern rock lobster, caviar, pearl meat, crystal snow crab, smoked wagyu prime rib – it's all there, and everyone is licking it up. Higher society, indeed.
And also …
Society's two other restaurants, also on 80 Collins; Lillian Terrace, an informal brasserie open all day; and Yakimono, a 200-seat charcoal-fired Japanese grill.
Di Stasio Pizzeria | 224 Faraday Street, Carlton
Most pizzerias are neighborhood restaurants, not destination restaurants. But then most pizzerias don't have the combined forces of Ronnie Di Stasio and Mallory Wall behind them. The famed restaurateurs' third location has a courtyard with a 17th-century Roman fountain, important works of art, and custom ingredients for "the perfect margherita." Worth crossing the city we think.
Nomad | Adelphi Hotel, 187 Flinders Lane, Melbourne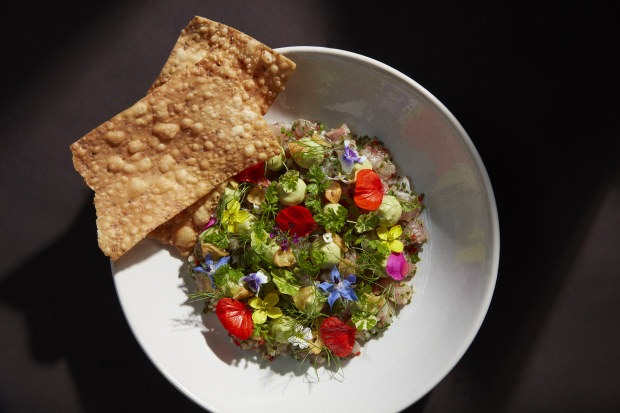 Nomad by name, nomad – finally – by nature, after the eight-year-old Sydney restaurant beat a string of mainly pandemic-related opportunities to set up camp in Melbourne's Flinders Lane. Like its sister Surry Hills, the new Nomad shares a chef (Jacqui Challinoor), a focus on cooking over fire, and a dedication to dealing almost exclusively with small producers, both in wine and great, crowd-pleasing food.
Beyond that, we're confident it's a brand new venture, with a proud, all-Victorian identity.
The restaurant owner's opinion: "What we've all been through has made everyone more appreciative of what restaurants do. The joy on the faces of our guests when a glass of wine is poured for them at the right temperature, in the right glass, stimulates our imagination." – Bec Yazbek, Co-Owner
Auterra Wine Bar | 1160 High Street, Armadale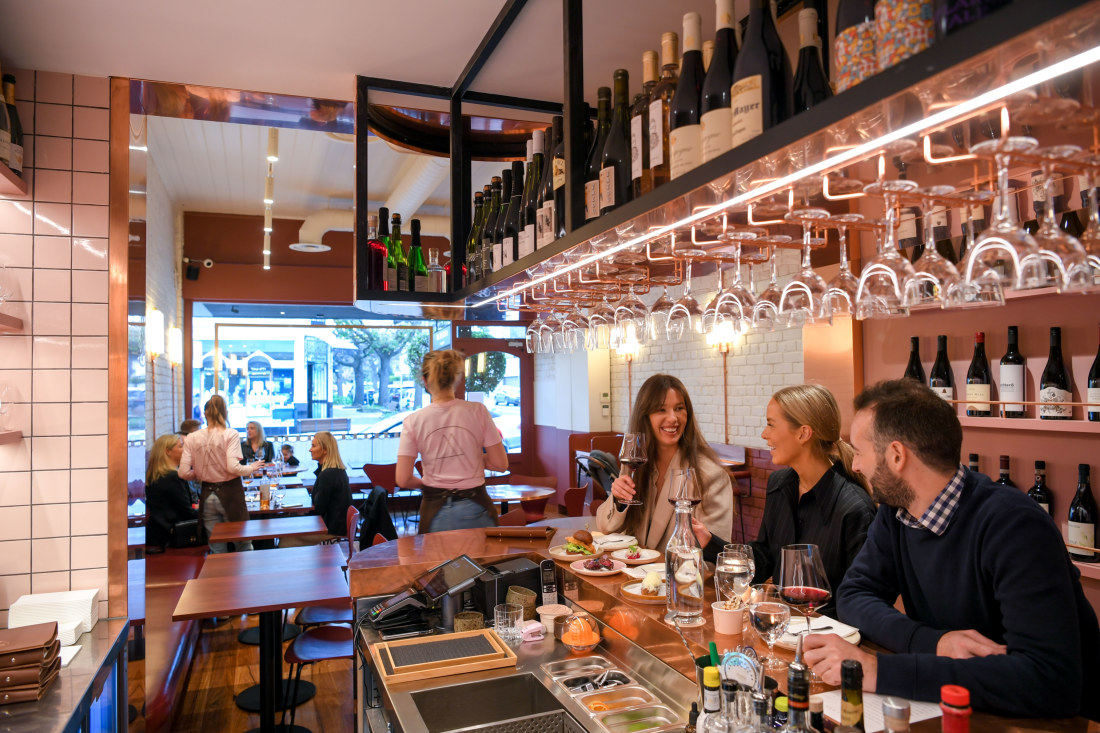 Sure, there's no shortage of wine bars in our capital cities and beyond as operators tap into our collective need for more impulse-driven dining out. But not many of them can boast a chef of the caliber of Amaru's Clinton McIver, nor a menu that amounts to a delicious procession of bonsai plates of food. Small Great Ocean Road duck parfait tarts; a miniature boudin blanc hot dog; a single oyster with charred cucumber dressing. What's more, they even serve their red wines at the right, cool temperature. And there is certainly a shortage of that.
And also …
♦ South Yarra is chic Yugen Tea Bar is part salon, part specialist café and part dessert tasting dinner. From February it will also be an Asian restaurant with 150 seats downstairs from the ground floor bar;
♦ Anchor Elwood is the new, mostly Mediterranean home for restaurateur Rosalin Virnik, ex-Curly Whiskers;
♦ Prolific chef/restaurateur Scott Pickett will open two more new ventures in the new year: Smith St Bistro in Collingwood followed by Audrey's, a new seafood-focused restaurant in the revamped Continental Sorrento;
♦ Plus we join the queues for the chic new breakfast bar at the just opened butcher shop Victor Churchill, in Armada.
Hobart
Peppina | The Tasman, Salamanca Place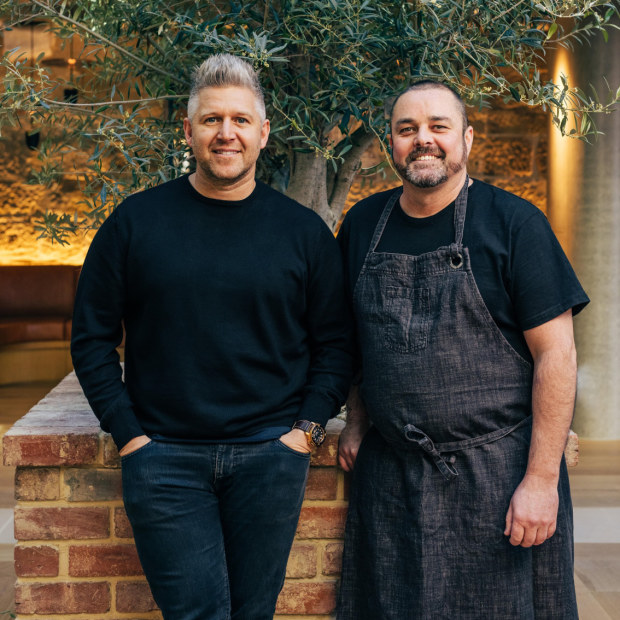 Another new restaurant named after a matriarch. Is this some sort of post-pandemic trend? Peppina, the 190-seat Italian restaurant in the new The Tasman hotel, ticks many other boxes as well. Wood fired oven. Open fire pit. A strong sense of place, both through design and manufacturing. A historic site, in the heart of Parliament Square's heritage redevelopment. And the coup? Getting Hobart-born, Naples-raised Massimo Mele on board as culinary director and renowned local chef Glenn Byrnes (Aloft, Garagistes, Fico) as his 2IC.
The restaurant will open on December 9.
Queensland
The marina of Lucio | Noosa Marina, Tewantin, Noosa Heads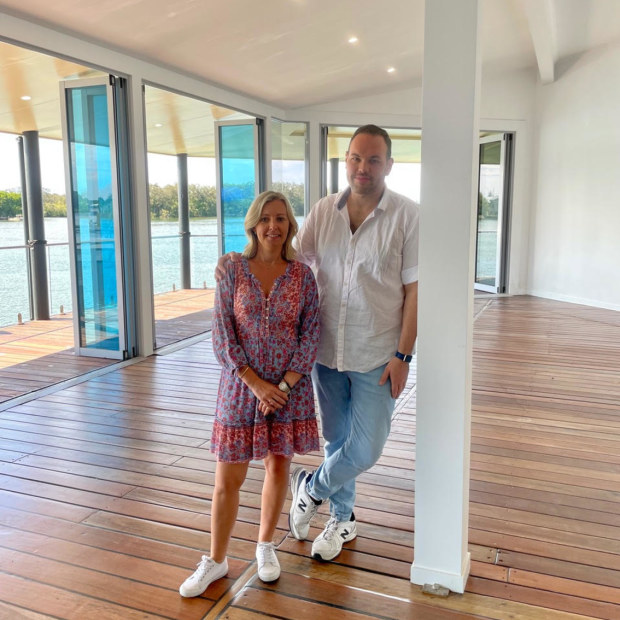 Yes it is Which Lucio's, the legendary Sydney restaurant that closed its doors early this year after a nearly four-decade run in Paddington. Lucio Galletto's son, Matteo, oversees the riverfront's subtropical renaissance, hoping to open the 60-seat trattoria and 50-seat bar in December.
piggyback| 1 Koorawatha Lane, Palmwoods, Sunshine Coast Hinterland
This is the third location for local restaurateur Tony Kelly, the name behind popular Asian eateries Rice Boy (Mooloolaba) and Giddy Geisha (Maroochydore). For his new place, Kelly has made a detour to Indonesia and Malaysia via a street food menu centered around the yakitori grill. Because why should the coast have all the fun?
Secrecy Surrounds R80 Million in Lottery Funding for Sports Project
The National Lottery Commission (NLC) donated R80 million to sports projects involving politically connected businessman Solly Siweya. But for the money there is little to see.
The committee paid R80 million to a dormant non-profit, Lulamisa Community Development, for a sports-related project. But neither the NLC nor the company will say what the money was for and how it was spent.
Featured in a recent GroundUp investigation into the controversial purchase of a luxury home in Bryanston, Siweya was a key player in the grants.

GroundUp recently revealed how (then) Sports Minister Fikile Mbalula made a cash offer of R5.6 million to buy the house. But just nine days later, Upbrand Properties, a company associated with the suspended NLC Chief Operating Officer Phillemon Letwaba, made an identical offer for the property, with Siweya acting on his behalf.
Three non-profit companies affiliated with Siweya have received lottery grants of more than R93 million in recent years. At least one of these grants to the nonprofit Life for Impact in the 21st Century is currently under investigation by the Hawks and also the Special Investigating Unit (SIU).
According to Department of Social Development (DSD) data, Lulamisa was originally registered as a non-profit organization in Limpopo in 2002. The DSD register lists Lulamisa's activities as "development and housing; employment and training; vocational training."
According to this data, Lulamisa has been dormant and non-compliant for the past five years.
But in fiscal year 2015-6, this nonprofit was awarded R64 million, and another one in the 2016-7 fiscal year R16 million, by the NLC.
It is not clear what the money will be spent on. Neither the NLC, Siweya nor others associated with Lulamisa would answer questions about this.
Around the time of the payment of the first installment to Lulamisa, a Facebook page was established on March 4, 2016 announcing the launch of "the Lulamisa Games" with a free concert in Kuruman in the North Cape. The "Games" were described by Lulamisa as the "old programs" of Durban's bid to host the 2022 Commonwealth Games. (The offer has since been canceled.) There were a handful of messages on that day. And then nothing was ever posted again.
The "About" section of the page states that the Lulamisa Games, "an initiative of the Lulamisa Community Development Organization", were funded by the NLC. NLC and Lulamisa logos are featured in the handful of posts on the page, all dated March 4, 2016, and all related to the Lulamisa Games.
After the March 4 posts, the Facebook page went silent with no news ever posted about the Games or other related events. A Lulamisa Games website is not working.
In May 2016, Siweya, who was described as the chairman of the board of directors of Lulamisa, represented the company on a sod-turning ceremony in Hlaneki, a village in the countryside of Limpopo, for a new "sports center". Siweya also distributed kits to local school sports teams.
At the time, Siweya said the event was part of a nationwide awareness campaign "to educate youth about the different sports codes in preparation for the 2022 Commonwealth Games to be held in Durban".
But the center Siweya promised was never built, Hosi Nhlaniki, the area's traditional leader, told GroundUp last week.
"We last saw those people in 2016. After making a pledge and turning the turf, they have not set foot here until today," Nhlaniki said. "As a leader, I am very disappointed that such a promise made to the entire community has never been fulfilled."
In response to a series of questions, Siweya said he was no longer involved with Lulamisa and referred us to people currently involved with the organization. But he ignored requests to provide their names and contact details.
Pinky Khosa, the only other director of Lulamisa registered with DSD, has not responded to questions sent to her by email.
The NLC did not respond to detailed questions, including where the money was being spent. Spokesperson Ndivhuho Mafela said only: "The National Lotteries Commission will not make any public comments regarding [the] financing projects that fall between 2014-2020. This is due to the presidential proclamation that ordered the SIU to investigate projects that fall within that period. It will be unfair for the NLC to comment in parallel before this process is completed."
© 2021 GroundUp. This item is licensed under a Creative Commons Attribution-NoDerivatives 4.0 International License.
You may republish this article as long as you credit the authors and GroundUp, and don't change the text. Include a link back to the original article.
We'll put an invisible pixel in the article so we can count traffic to republishers. All analytics tools are exclusively on our servers. We do not give our logs to third parties. Logs are deleted after two weeks. We do not use IP address identifiers except to count regional traffic. We are only interested in counting hits, do not follow users. If you're republishing, don't remove the invisible pixel.
GRAINS-US wheat falls as weather improves; maize, soya firm after export deals
(Recast with US trading; adds new analyst quote; changes byline/date line, pvs PARIS/SINGAPORE)
By Mark Weinraub
CHICAGO, Dec. 8 (Reuters) – US wheat futures fell on Wednesday as forecasts of mild temperatures and some rain in key growing areas raised hopes the crop will be in good condition before going dormant, traders said.
"The weather for wheat in the US looks pretty good," said Terry Reilly, senior commodities analyst at Futures International. "The warmer temperatures are expected to give wheat conditions a bit of a boost."
Corn and soybean futures tightened and rebounded from overnight weakness after the US Department of Agriculture announced new export deals for both commodities.
Private exporters reported sales of 130,000 tons of soybeans to China, the fifth consecutive trading day announced a flash sale of the oilseed and 1,844 million tons of corn to Mexico.
The impact of the deal with Mexico was limited as the largest buyer of US corn typically makes a large purchase of US corn in December.
At 10:30 a.m. CST (1630 GMT), the Chicago Board of Trade's March soybean futures rose 6-1/4 cents at $12.56-1/2 per bushel. March's CBOT corn was 1/2 cent higher at $5.86-1/2 per bushel.
Expectations for a record crop of both commodities in South America kept profits under control. Forecasts pointed to improved growth weather in recent days, but parts of southern Brazil remained dry.
Grain markets were cautiously a day ahead of the USDA's monthly World Agricultural Supply and Demand Estimates report.
Corn and soybean markets are also assessing Tuesday's announcement by the US government of plans to scale back the amount of biofuels that oil refineries had to blend in.
The wheat market is waiting for an update on the Australian harvest, in the hopes that a drier period in the coming week will prevent further quality damage.
CBOT soft red winter wheat futures in March were down 11-3/4 cents at $7.96-3/4 per bushel. (Additional coverage by Gus Trompiz in Paris and Naveen Thukral in Singapore, edited by Marguerita Choy)
© Copyright Thomson Reuters 2021. Click for restrictions – http://about.reuters.com/fulllegal.asp
Orangeburg restaurants hope people eat us for the holidays
With the holiday season approaching, many retailers and restaurants are hoping that people will spend their money in the city and not online.
ORANGEBURG, SC – Restaurants in Orangeburg hope that when people say "Shop Local" they mean local food.
"People have families to feed, so I feel supporting the smaller businesses will help the community," said the restaurant manager "Philly special, "Taylor Benjamin.
He says the restaurant is known for its Philly cheesesteaks and chicken wings.
Since the start of the pandemic, Benjamin says, the restaurant has faced food shortages due to supply chain disruptions that sometimes make it a bit difficult to get steak, sourdough and chicken wings.
Buy them say they made things work.
RELATED: Regional Medical Center Receives $7.7 Million in COVID Relief Funds
"Everything is going pretty well, everything is going pretty well. The money comes right. We are handing out the orders. To get our customer turnover and customer base going again," says Benjamin.
The "Taste of the Caribbean" restaurant opened at the height of the pandemic and manager Kishon Ryan said the community has embraced them with open arms.
RELATED: Orangeburg Police Department Distributes Messages to Improve Community Relations
"Even though we are open during the pandemic, at the peak. Being new to Orangeburg, the Caribbean restaurant, it took off. Because we have authentic food and authentic chefs, people came out to support us all the time," Ryan says.
The restaurant's number one seller, Ryan says, are the oxtails.
"We expect a large audience. We expect people to be quiet, people from out of town to come and try us and try to get something different," Ryan said.
The "Taste of Caribbean" says it plans to open for half a day on Christmas Eve and the "Philly Special" will be open all day.